Thomas Xenakis
Visual Artist and Visual Arts Educator
Resume Synopsis
Thomas Xenakis was born and raised in Brooklyn, New York. His undergraduate education was at Brooklyn College, City University of New York. He studied Biology and Fine Arts. Upon completion there, Thomas continued with classes at the School of Visual Arts in New York City, which prepared him for his Master's Education at the Johns Hopkins University School of Medicine, Department of Art as Applied to Medicine in Baltimore, Maryland.
After this education, Thomas relocated to Norfolk, Virginia where he worked for a short time as a medical and biological illustrator at Eastern Virginia Medical School. He then became an independent illustrator with clients in the medical, legal, and advertising professions from 1982 to 1996. He began showing his work locally in the Tidewater area in the late 1980's. In 1987 he began a personal quest to study the media of the Byzantine art era, to include egg-tempera, fresco, mosaic, egg-oil emulsion, and wax encaustic. He began to write sacred icons in 1987.
After a series of high profile regional and local exhibitions, Thomas was awarded a Senior Fulbright Fellowship to Greece in 1994-1995. In 1996 he became artist-in-residence at the Wesley Theological Seminary, Center for the Arts and Religion, Washington, DC. He continued his work with the sacred icon and its contemporary applications in media and subject. Thomas completed a Masters of Fine Arts at the Maryland Institute College of Art Hoffberger School of Painting in Baltimore, Maryland under the guidance of the late Grace Hartigan, abstract expressionist.
In 1998 Thomas taught a variety of courses in drawing, design, and painting at local universities and community colleges in Washington DC area. Shortly afterwards he was awarded a second Fulbright Foundation to research Greek outsider artists. In 2000-2001 Thomas spent his tenure in northern Greece producing a large and varied body of work in wax, oils, and graphite.
In 2004 artist Thomas Xenakis had his first retrospective exhibition, Sailing from Byzantium, Twenty Years of Painting and Drawing at the Visual Arts Center, Portsmouth Virginia. He has participated in the 5th Florence Biennale of Contemporary Art in December 2005 in Florence, Italy. It is the artist's first exhibition in Italy.
Mr. Xenakis is continually working in his Washington DC studio. Since 2003 he is working on sculpted and painted gilded panels with a variety of precious metals. These works in series are titled XPYSO (GOLD).
Thomas teaches painting, drawing, and design at Georgetown University and the Corcoran School of Art and Design in Washington DC. Additionally he teaches at Marymount University in Arlington, Virginia. He is represented in collections throughout the United States, Greece, France, and Germany.
June 2009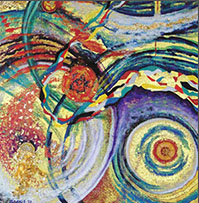 Golden in Nature: Mixed Media Paintings
Arts Club of Washington
April 7-29, 2017
Opening Reception: Friday, April 7, 2017, 6:30-8:30 pm
Arts Club of Washington
2017 "I" Street NW
Washington DC 20006
Arts Club of Washington
---
Retrospective in Gold: Bridging Sacred and Secular
The Frame Factory
May 6 - June 8, 2017
Reception, Saturday, May 6, 2017, 5:30-8:00 pm
212 Dominion Road NE
Vienna, VA 22180
The Frame Factory
---
Spirit of Gold
Works by Thomas Xenakis
January 28 - February 29, 2016
Opening Reception: Thursday, January 28, 2016, 6:30-8:30 pm
RSVP is required at The Embassy of Greece by Jan. 26, 2016. This event is free.
The Embassy of Greece
2217 Massachusetts Avenue NW
Washington DC 20008
---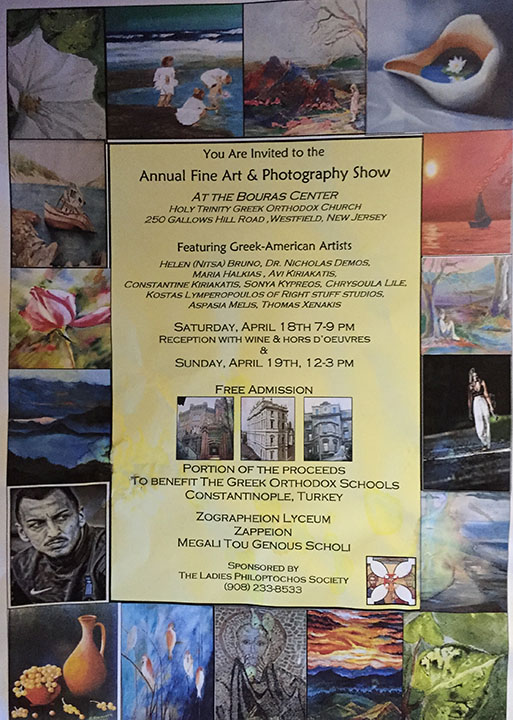 Annual Fine Art & Photography Show
Opening Reception: Saturday, April 18, 2015, 7-9 pm
Sunday, April 19, 2015, 12-3 pm
The Bouras Center, Holy Trinity Greek Orthodox Church
250 Gallows Hill Road, Westfield, New Jersey
A portion of the proceeds benefit The Greek Orthodox Schools, Constantinople, Turkey
Free and open to the public.
---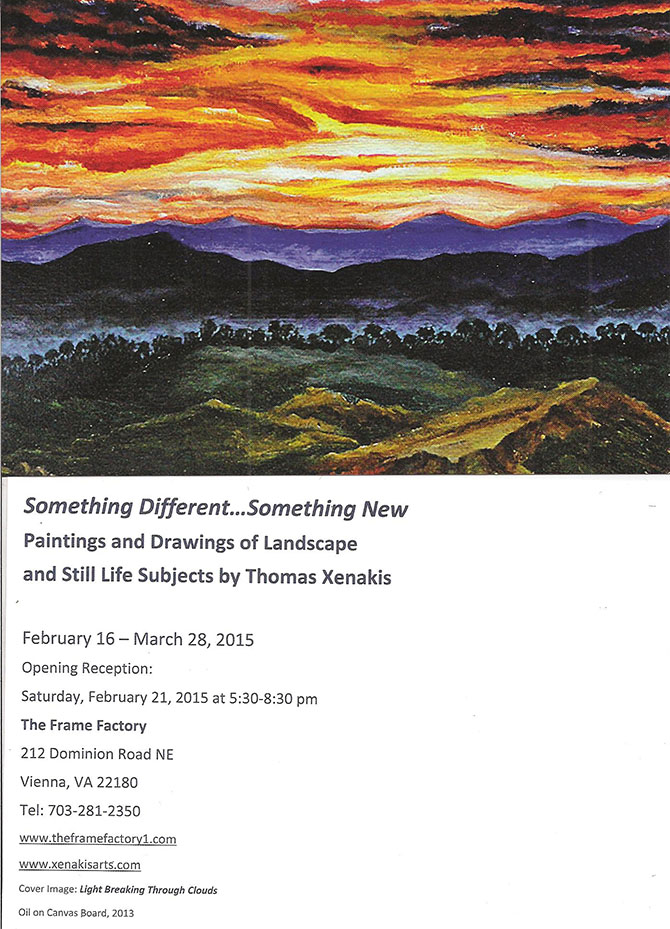 Something Different Something New
February 16 -
March 28, 2015
Opening Reception: Saturday, February 21, 2015
The Frame Factory
212 Dominion Road NE
Vienna, VA 22180
Free and open to the public.
---