Welcome to the web page of Thomas Xenakis, visual artist.
I hope this introduction to my work, career and passions gives you a fine idea of the ways I communicate my visual messages in a variety of mediums and genres.
My visual art is a committed dialogue to expressing my relationship to my world, to my God and to all humanity.
As you navigate the web page, please feel free to contact me about any page, any piece of art or any item of interest. All inquiries are welcome.
This is a small selection of works the last few years only. Each gallery contains a small number of examples from each series. Additional works and new works will appear from time to time. Your interest is greatly appreciated. Enjoy the site and please come back to visit soon!
XPYSO
-A sonnet for Tom Xenakis
Footprints of the tribes or of the stars,
Migrations crossing moons or galaxies,
Bubbling, churning, swirling scimitars,
Turbulence of high discoveries. . .
Orbits intersecting mist cascades-
Fuming rapids veined with fulgent madder,
Gaseous banks inscribed by cosmic blades,
Fast hurtling to the zenith. One great ladder
Leading to eternity. True gnosis
Calms temptation, unveils this vast vision:
All is rising towards I Am-Theosis
Is the energy! All fusion, fission
Are of the spirit here. From days of old
Both now and always: universe in gold.
2010
Written by:
Jonathan Chaves, Professor of Chinese
Department of East Asian Languages & Literatures
George Washington University
Washington, DC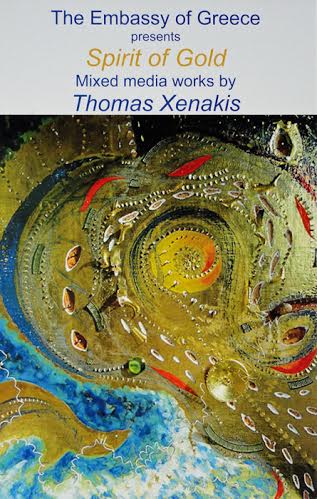 Spirit of Gold
Works by Thomas Xenakis
January 28 - February 29, 2016
Opening Reception: Thursday, January 28, 2016, 6:30-8:30 pm
RSVP is required at The Embassy of Greece by Jan. 26, 2016. This event is free.
The Embassy of Greece
2217 Massachusetts Avenue NW
Washington DC 20008
---
The Arts Club of Washington presents Golden in Nature
Mixed Media Works
by Thomas Xenakis
April 2017
The Arts Club of Washington /
Monroe House
2017 "I" Street NW
Washington DC 20006
---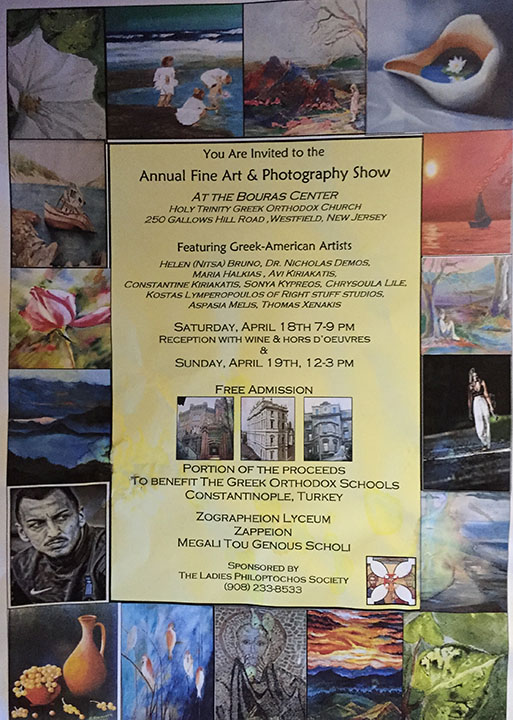 Annual Fine Art & Photography Show
Opening Reception: Saturday, April 18, 2015, 7-9 pm
Sunday, April 19, 2015, 12-3 pm
The Bouras Center, Holy Trinity Greek Orthodox Church
250 Gallows Hill Road, Westfield, New Jersey
A portion of the proceeds benefit The Greek Orthodox Schools, Constantinople, Turkey
Free and open to the public.
---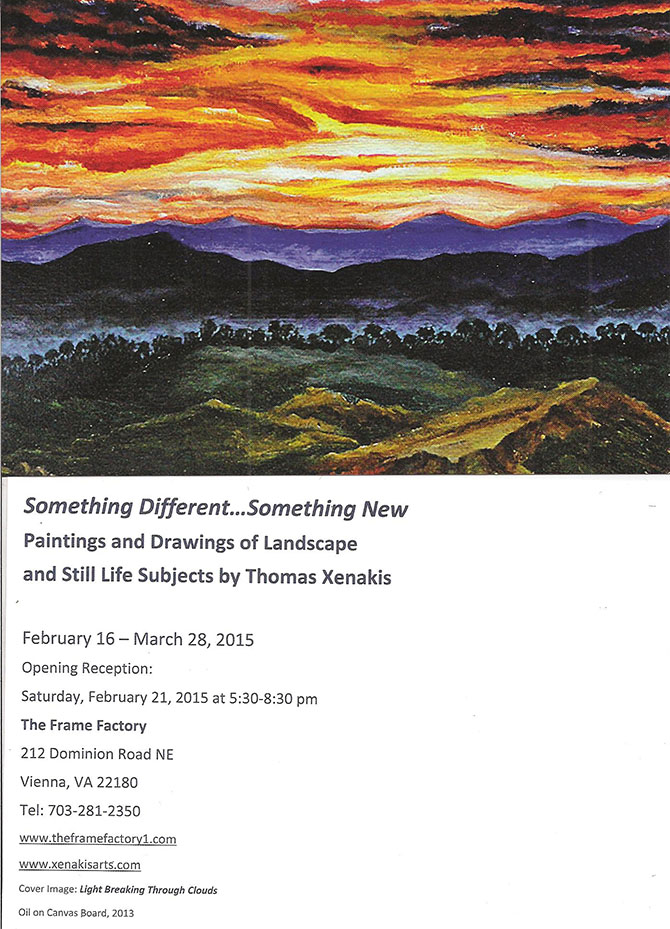 Something Different Something New
February 16 -
March 28, 2015
Opening Reception: Saturday, February 21, 2015
The Frame Factory
212 Dominion Road NE
Vienna, VA 22180
Free and open to the public.
---